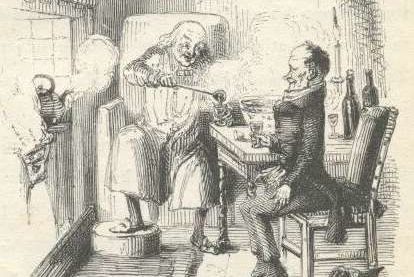 No place on earth seems half so cold and damp as Oxford on a mid-winter's day. Perhaps this explains the origin of the "smoking bishop," a drink that puts cheer back into that "winter of our discontent."
I'm told the brew is as ancient as the University. It is mentioned in the closing lines of "A Christmas Carol," as well as a late 17th Century poem by Swift. However, a too-brief stroll through the Bodleian turned up nothing earlier than a recipe from Dick Humelbergius Secundus (not a real name*), "Apician Morsels…." in 1836. It is claimed to be the original Oxford brew, containing lemons, cloves, cinnamon, mace, allspice and ginger. And, of course, a substantial amount of port and red claret.
As intoxicating as this brew is, I am drawn to the scent of oranges in winter, and therefore to the recipe Swift hints at in his poem, "Oranges:"
"Fine oranges, well roasted, with sugar and wine in a cup
they'll make a sweet bishop when gentle folks sup."
The Occasio recipe for Smoking Bishop is a hybrid between that which is Oxford, and that which is Irish.

Ingredients
1 lemon
5 oranges
24 whole cloves (about 4 per fruit)
¼ tsp cinnamon
¼ tsp all spice
½ tsp mace
1 piece of fresh ginger root peeled and chopped
½ C brown sugar
1 bottle red wine – we quite like our Occasio Winery Merlot
1 bottle (750) port – 2 of our bottles of Opportunity port wine is ideal!
Directions
Preheat oven to 300
Score the fruit and stick the cloves into the cuts. Place the fruit onto a baking sheet and roast for an hour.
While the fruit is roasting, place 1 cup water with the ginger and spices into a saucepan and simmer until liquid is halved. Then pour in the bottle of red wine and sugar and simmer for an additional ten minutes while stirring.
Remove the fruit from the oven and add to a large bowl. Pour the wine mixture over the fruit, cover with plastic wrap, and leave macerate overnight. The next day, remove the fruits, cut them in half, and juice them back into the wine mixture. Then pour the mixture into a new bowl, using a wire sieve to strain out the large particles.
Now, add the port and stir over medium heat until the mixture is hot (do not boil). Add more sugar if desired. Pour the hot wine into mugs and garnish with fresh lemon slices.
——————————–
*For just the curious: Humelbergius Secundus is an allusion to Gabriel Hummellberger, the 16th Century annotator of the works of the Roman chef Apicius. Stanford professor Denise Gigante believes it is the pseudonym of Richard Chenevix, an editor for the Edinburgh Review in the early 1800s.
Woodcut drawing: Scrooge and Bob Cratchit
by John Leech (1809 – 1870)
from A Christmas Carol by Charles Dickens (1812 – 1870)